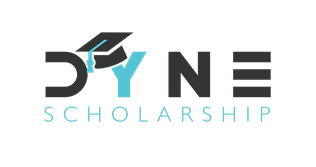 DYNE SCHOLARSHIP FUND AWARD PROGRAM
DYNE Hospitality Group is thrilled to announce the "DYNE Make it Happen Scholarship Fund." Created to help DYNE employees pursue their passions and goals through higher education, this scholarship will award select recipients a $2,000 scholarship.
All applicants will be reviewed by the DYNE Scholarship Committee and must meet a minimum set of requirements:
Be a current DYNE Hospitality Group Cafe employee

Be a high school senior or current college student with a minimum GPA of 2.5

Have a plan to enroll in or have proof of current enrollment in an undergraduate program (full or part-time) at an accredited two- or four-year college, university, or vocational-technical school.
Interested applicants must submit a current transcript and personal video. In the video, applicants should creatively show and explain their passion and how they plan to use that in the future to make a positive change in the world.
The selected recipients of the "DYNE Make it Happen Scholarship Fund" scholarship will each receive $2,000 towards their educational goals. Although the awards do not automatically renew the following year, applicants can reapply the following year(s) as long as they meet the requirements.
2
In the first two years of offering this scholarship, we've helped so many
$2,000
awarded to each scholarship recipient
$20,000
in scholarships awarded since the fund's inception
10
total scholarship recipients
PREVIOUS SCHOLARSHIP RECIPIENTS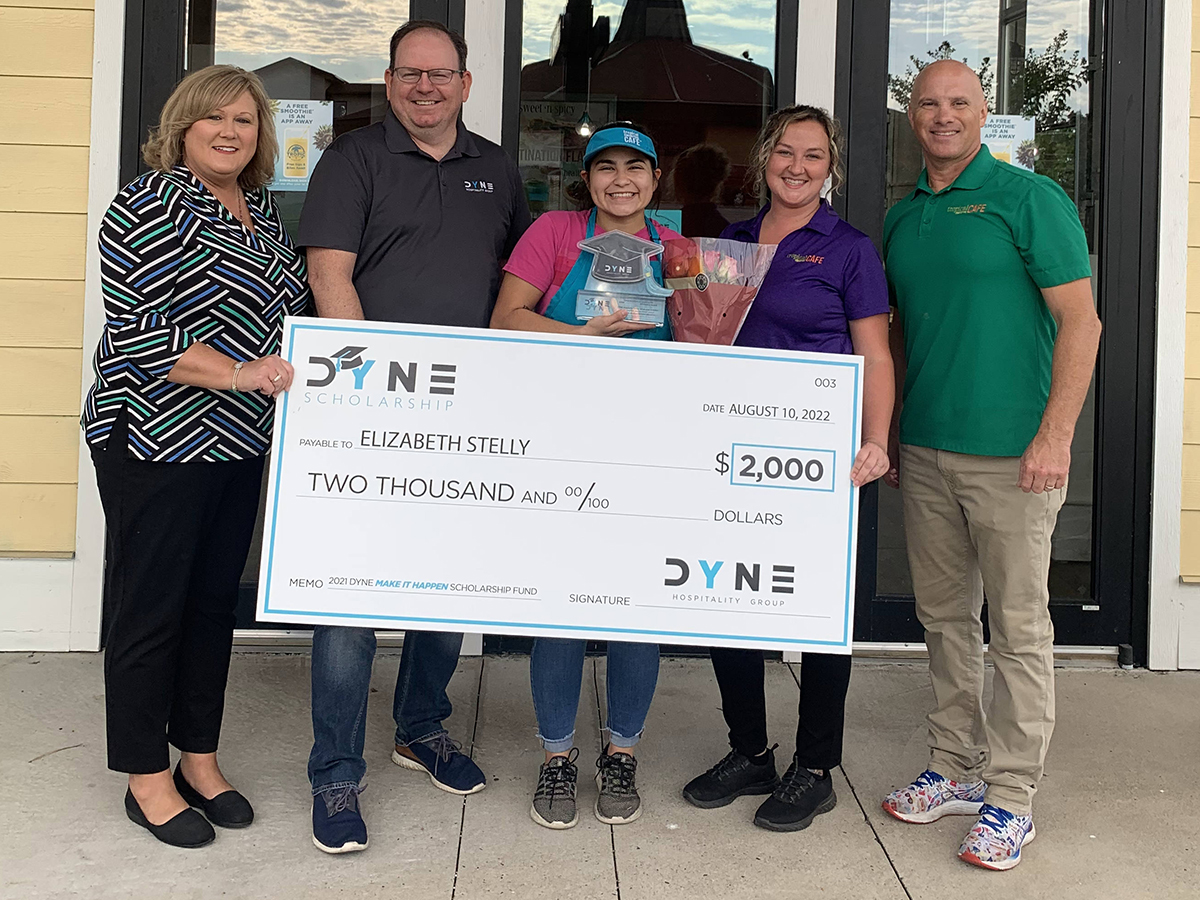 Elizabeth Stelly
Tropical Smoothie Location:

AR025
School of Choice: Arkansas Tech University
"I am truly so incredibly humbled and honored to have been able to receive this scholarship. I am currently one of fifteen students who get accepted into the cardiac sonography program through ATU Ozark each year. I love this program and knowing I have more financial support definitely takes things easier. I am grateful to be with such an incredible company who not only creates amazing work environments, but also one who supports their employees further their educational goals."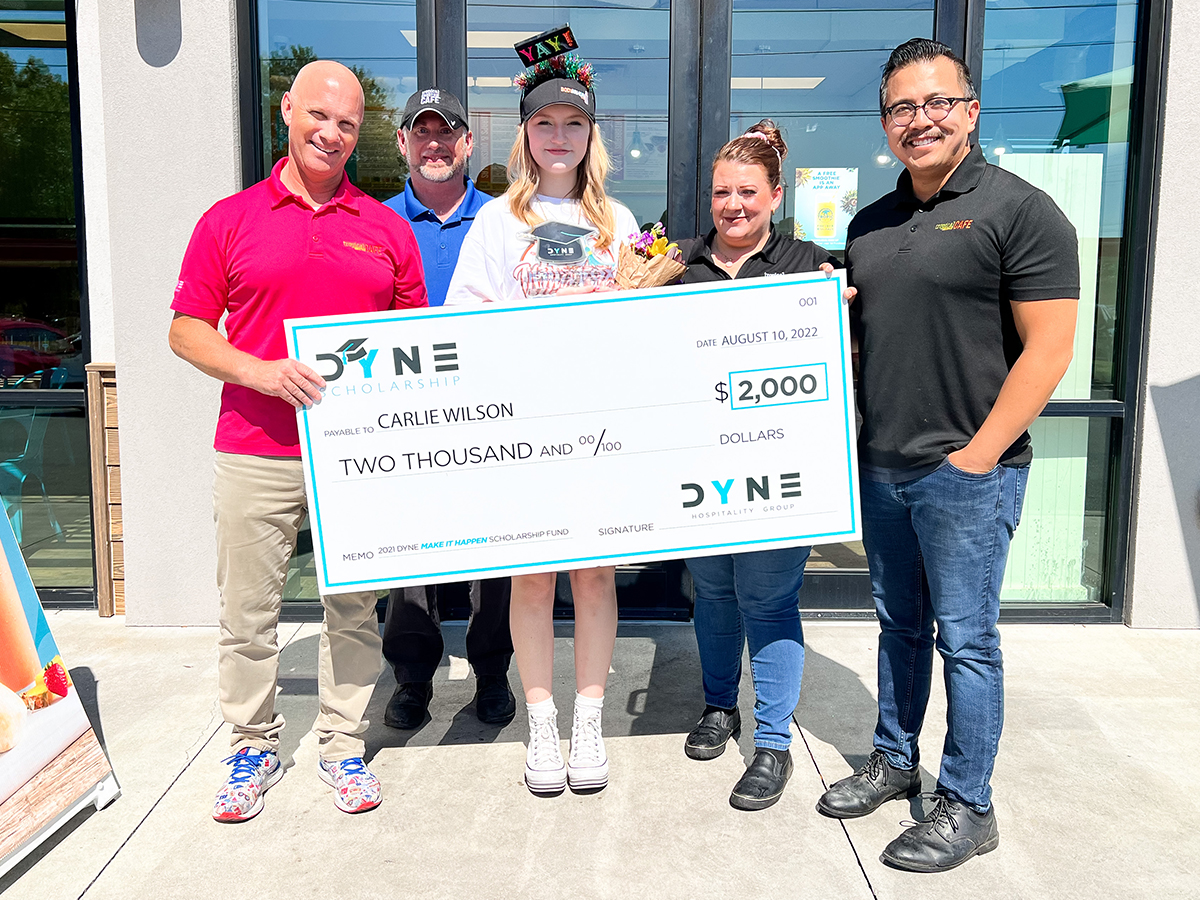 Carlie Wilson
Tropical Smoothie Location:

OK016
"The Make It Happen Scholarship means so much to me! Working for Tropical Smoothie is my main source of funding for college, so to have earned these additional funds is a huge help and honor for me. This has made me feel like my dreams are possible, and I am so grateful for this opportunity."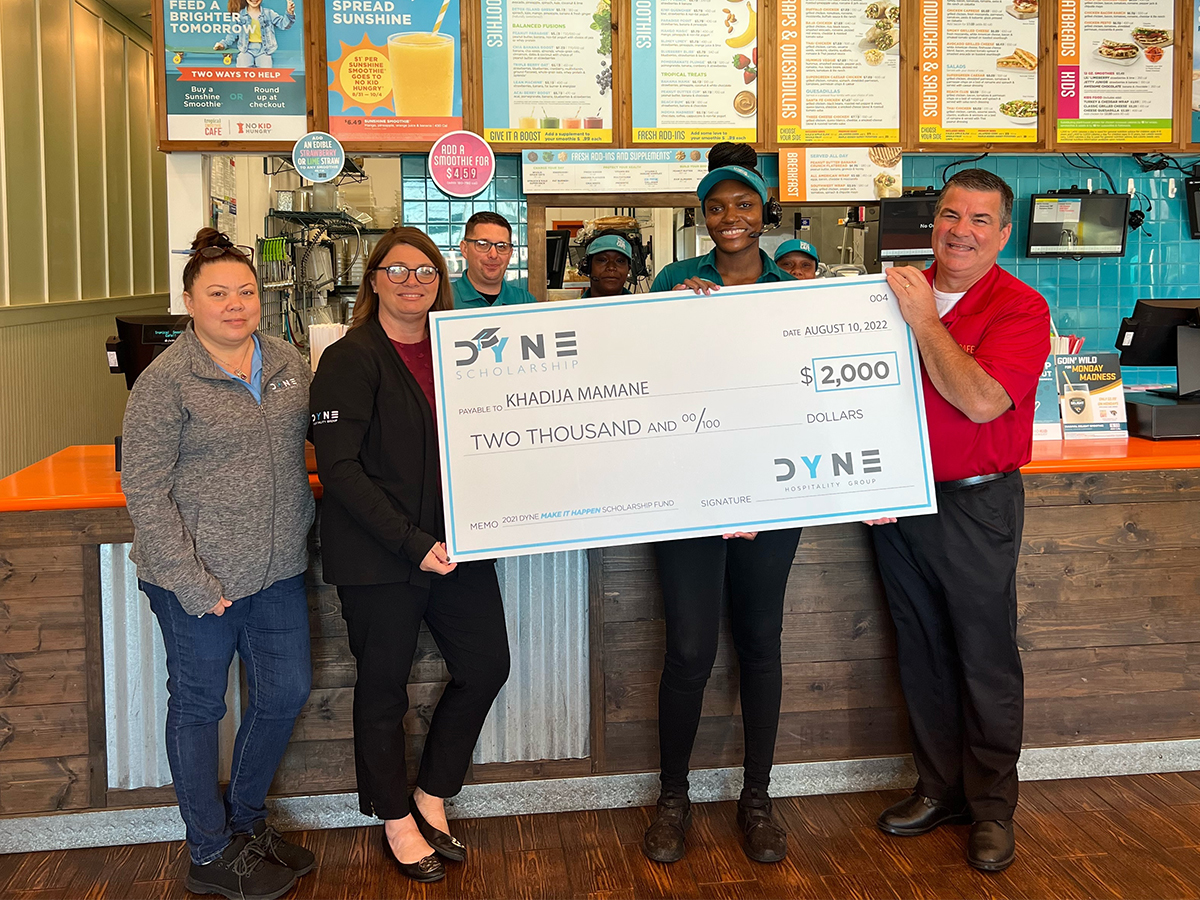 Khadija Mamane
Tropical Smoothie Location:

FL111
School of Choice: Florida State College at Jacksonville South Campus
"This award means so much to me because this can take my academic career so many steps further. I am in school to be an oncology nurse and with this scholarship, it can help me take my education to new heights and solely focus on keeping up the good work. I am so honored to be a recipient of this award."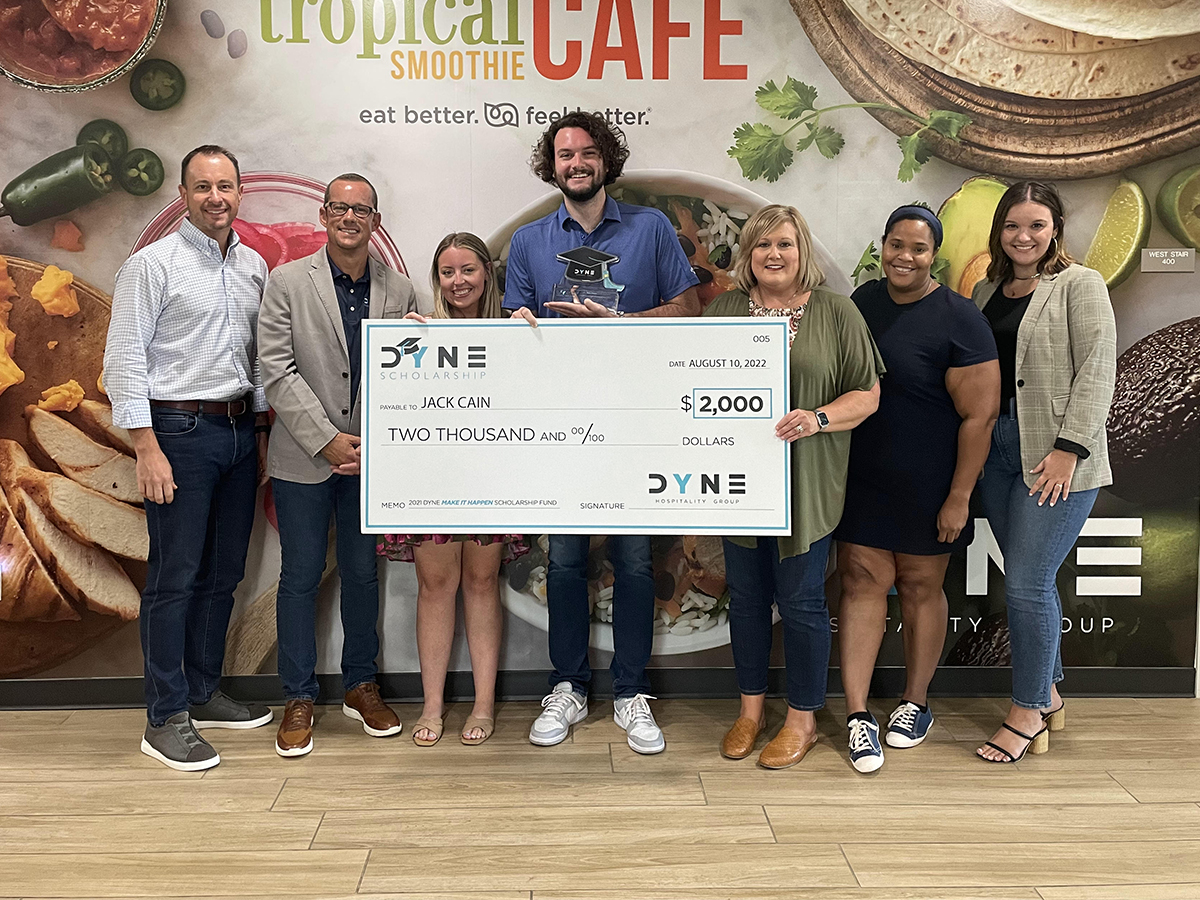 Jack Cain
Tropical Smoothie Location:

Support Office
School of Choice: William H. Bowen School of Law
"This scholarship will help me immensely in my academic career. Law school is stressful enough as it is, and the financial burden can sometimes be equally stressful. This scholarship helps ease that burden and allows me to focus on the schoolwork. It is a great feeling of comfort to me knowing that my company values me and my work enough to invest in my future in this way."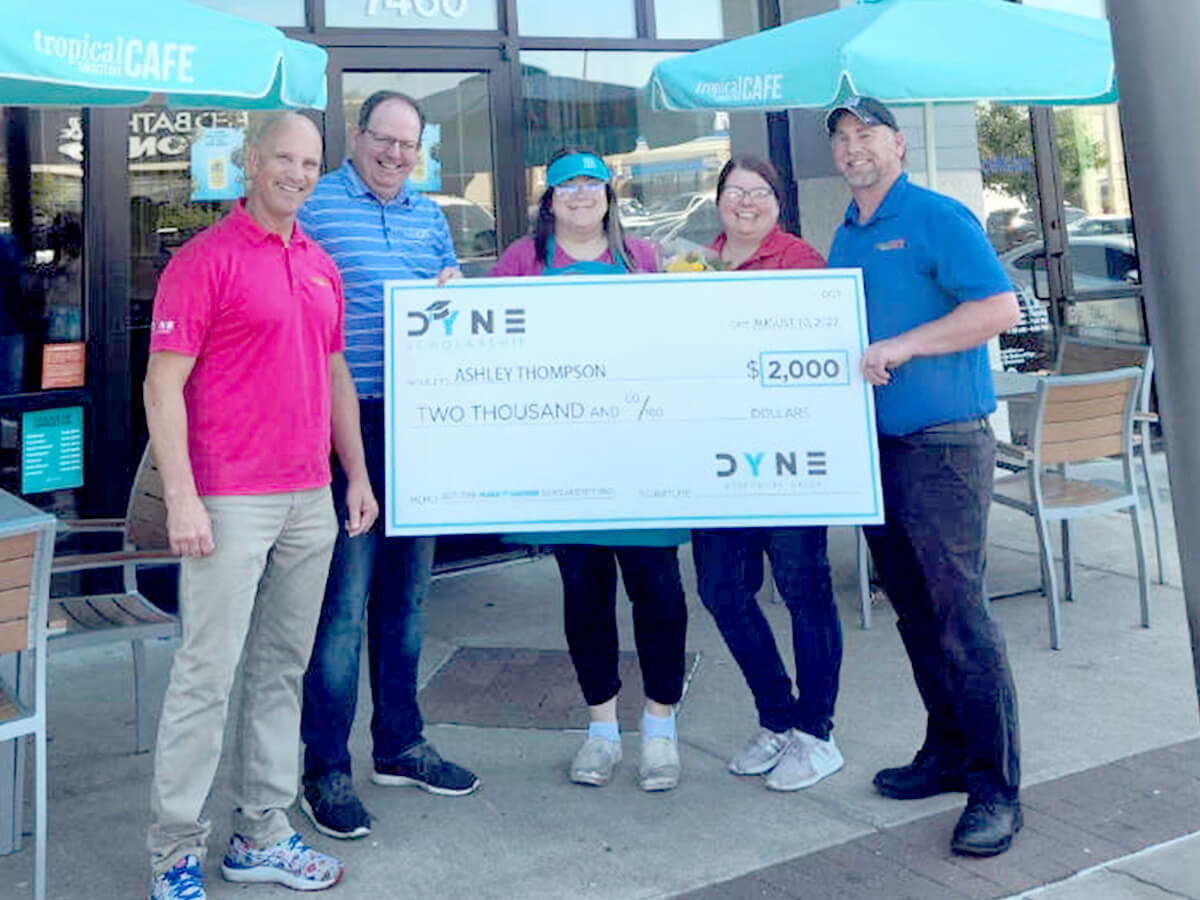 Ashley Thompson
Tropical Smoothie Location:

OK002
School of Choice: Tulsa Community College
"Winning this scholarship means so much more to me than I can really articulate. It is like a breath of fresh air because I recently went through a long and hard series of unfortunate life events that completely drained all of the money that I had, including the money I needed to pay for school. After working many hours over the summer, I still was not able to recover from those events because more kept piling on. With this scholarship, that I am so blessed to have won, I can officially pay for my school and get back on my feet financially. This kind of relief is something that I wish everyone could experience without the hardship that comes with it."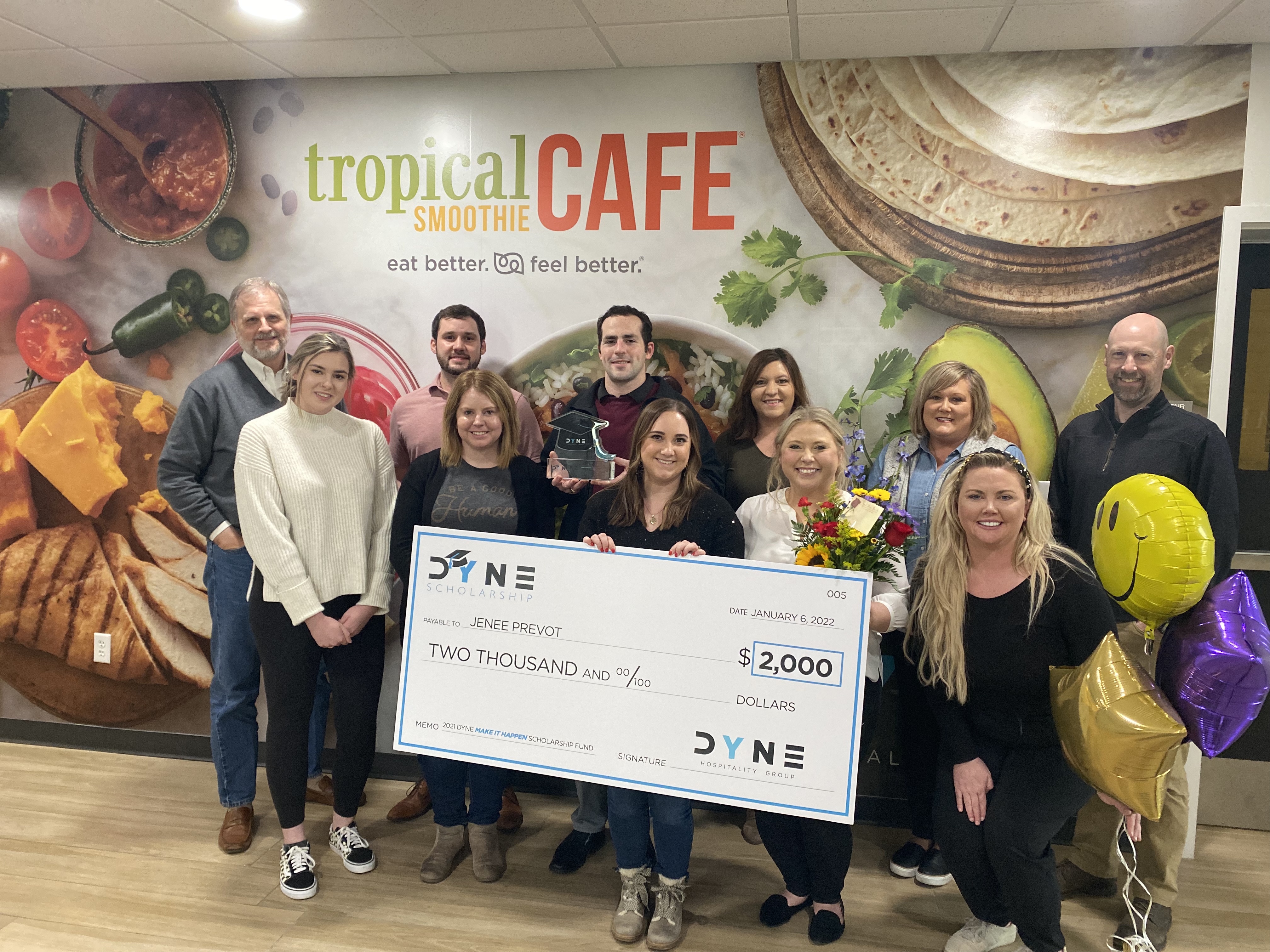 Jenee Prevot
Tropical Smoothie Location: Support Office
School of Choice: Louisiana State University Shreveport
"Since receiving the DYNE Scholarship, I have completed two semesters (four courses). The scholarship helped fund a whole semester of course work, which was very helpful as I am paying out of pocket for my schooling. My husband and I also bought our first home, so the scholarships helped relieve some of the financial burden during that time! I am about to enter my last semester of my MBA program and will graduate this October!"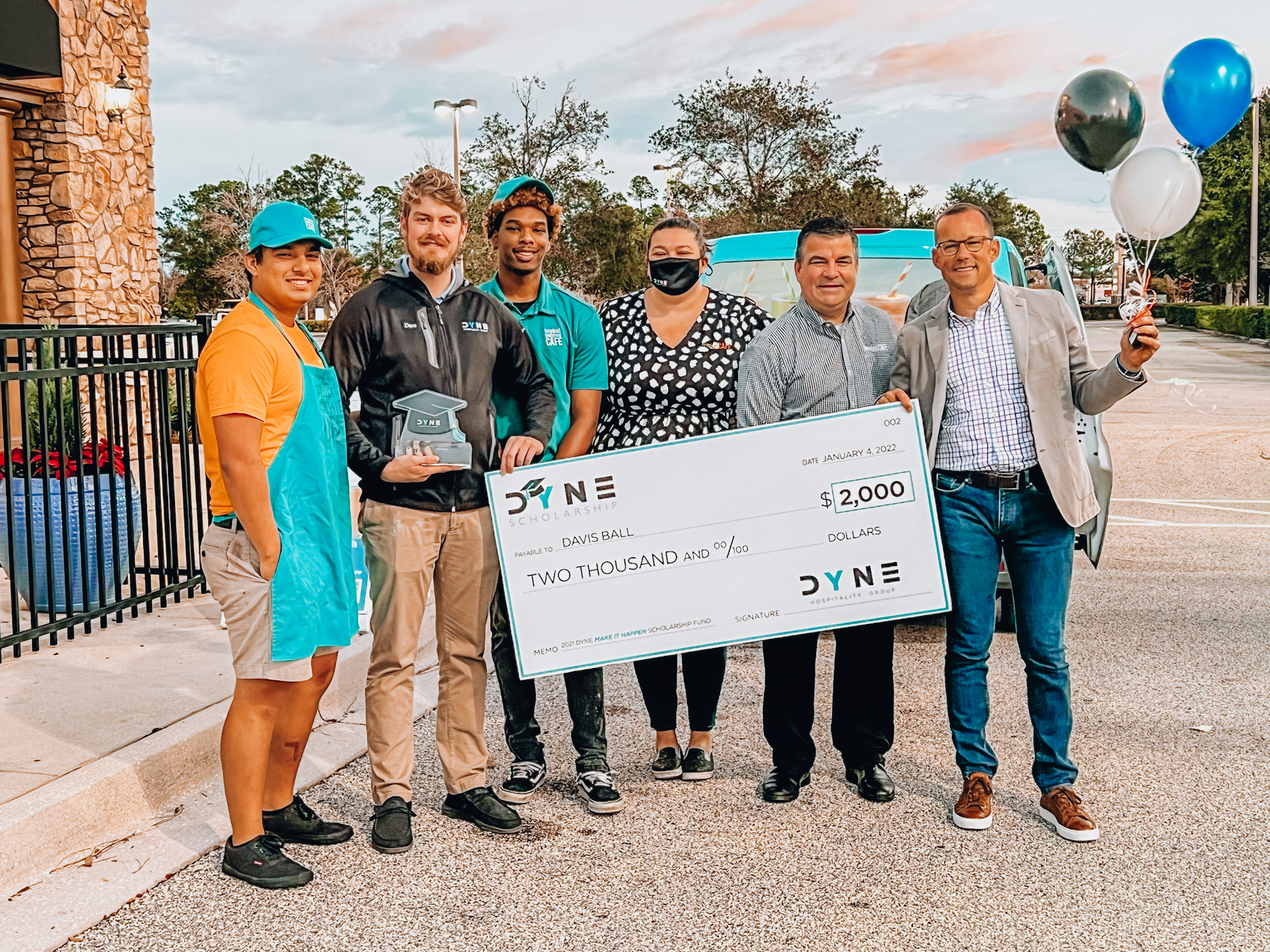 Davis Ball
Tropical Smoothie Location: FL193
School of Choice: University of North Florida
"The scholarship was very very meaningful to me. I'm super thankful for DYNE giving me the opportunity to receive this award. I was able to use this money to pay for the last of my classes at UNF which prevented me from having to take out a second loan for school! I know this award means a lot to every student that works for DYNE!"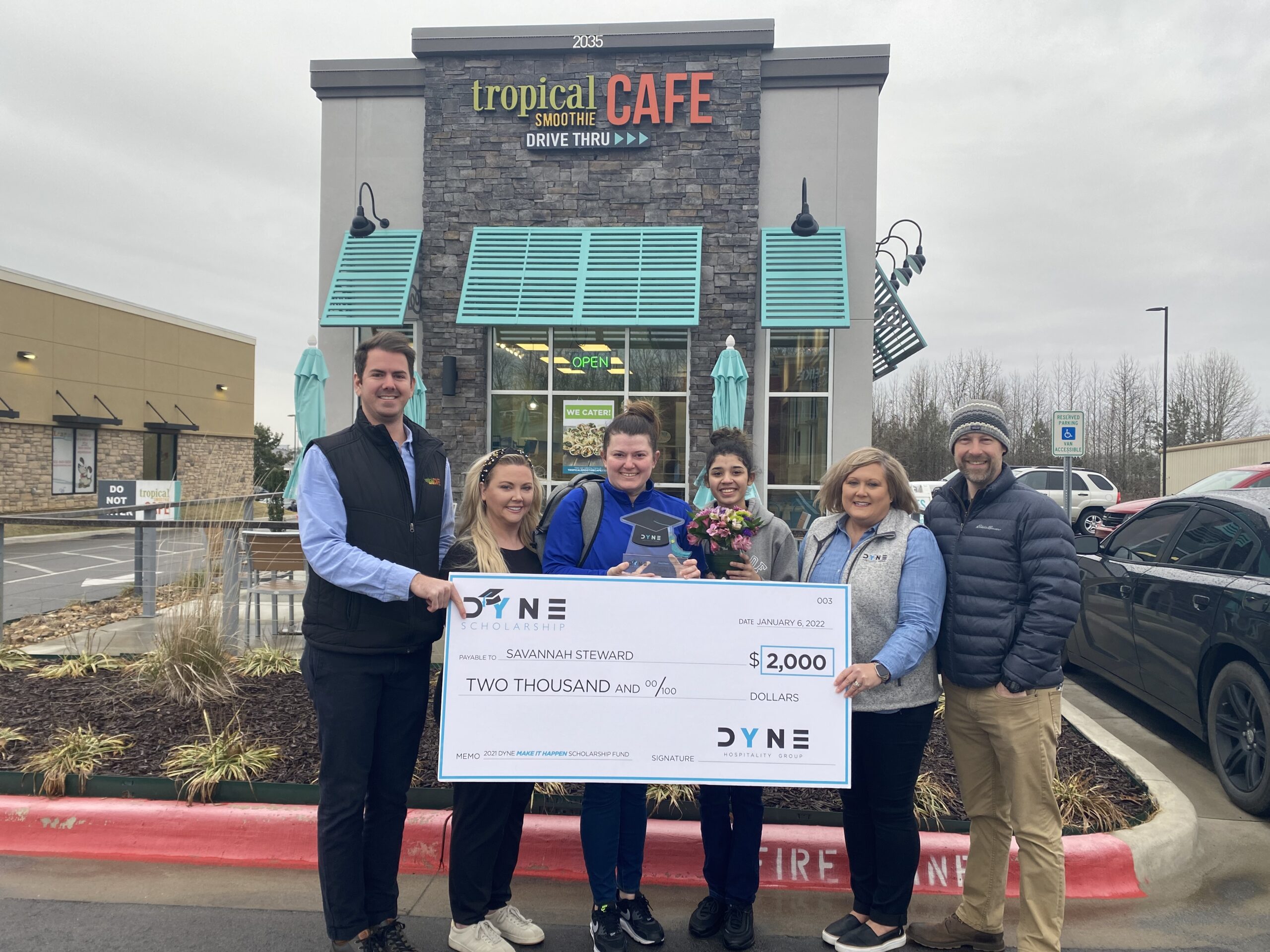 Savannah Steward
Tropical Smoothie Location: AR027
School of Choice: Arkansas State at Beebe
"The DYNE Scholarship helped me to be able to concentrate on school and not worry about how I was going to cover all of my expenses. Being a single mom in school is hard, but our scholarship program allowed me to have peace of mind! Forever grateful to represent DYNE as a scholarship recipient!"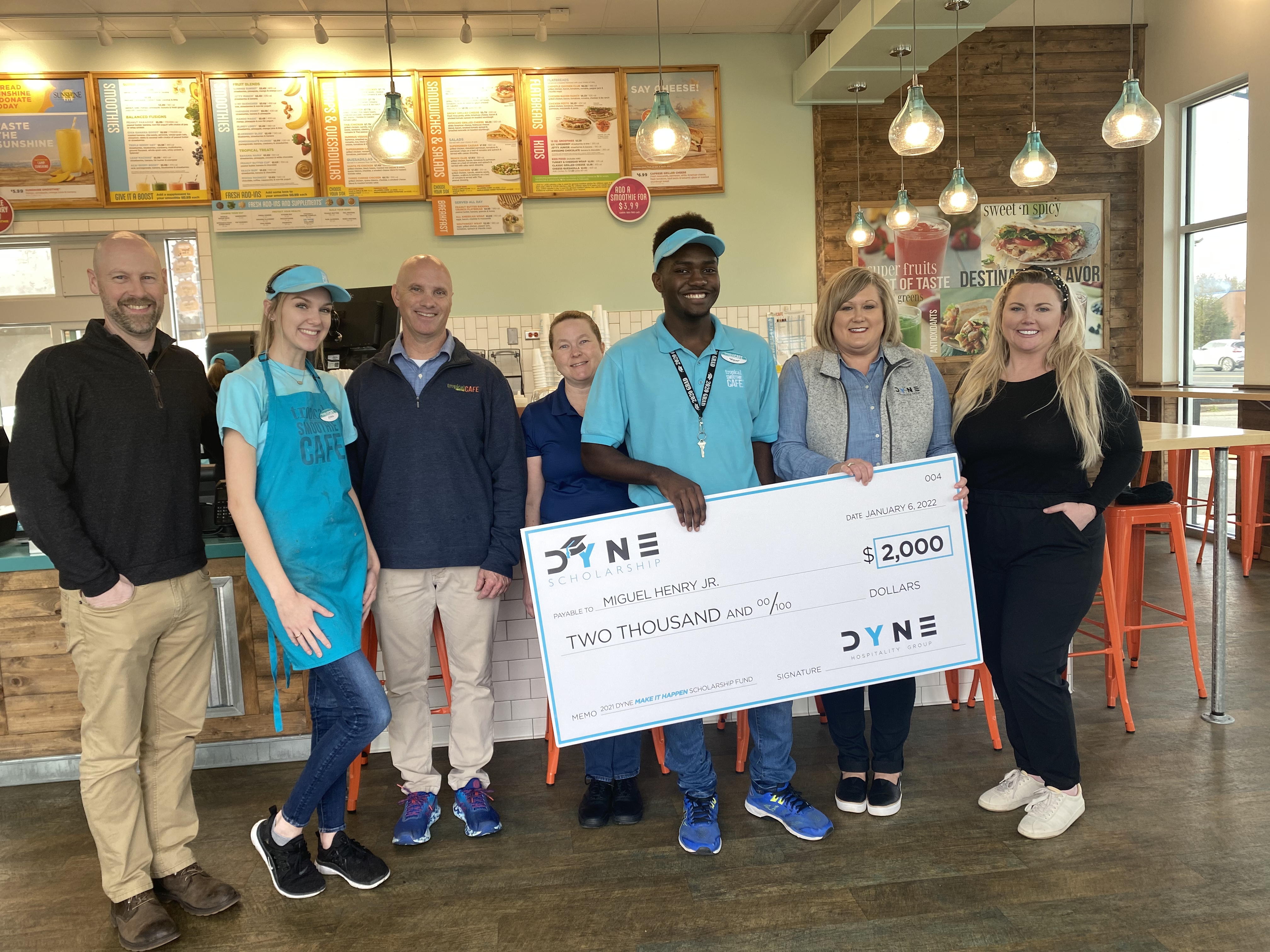 Miguel Henry, Jr.
Tropical Smoothie Location: AR033
School of Choice: Pulaski Technical School in North Little Rock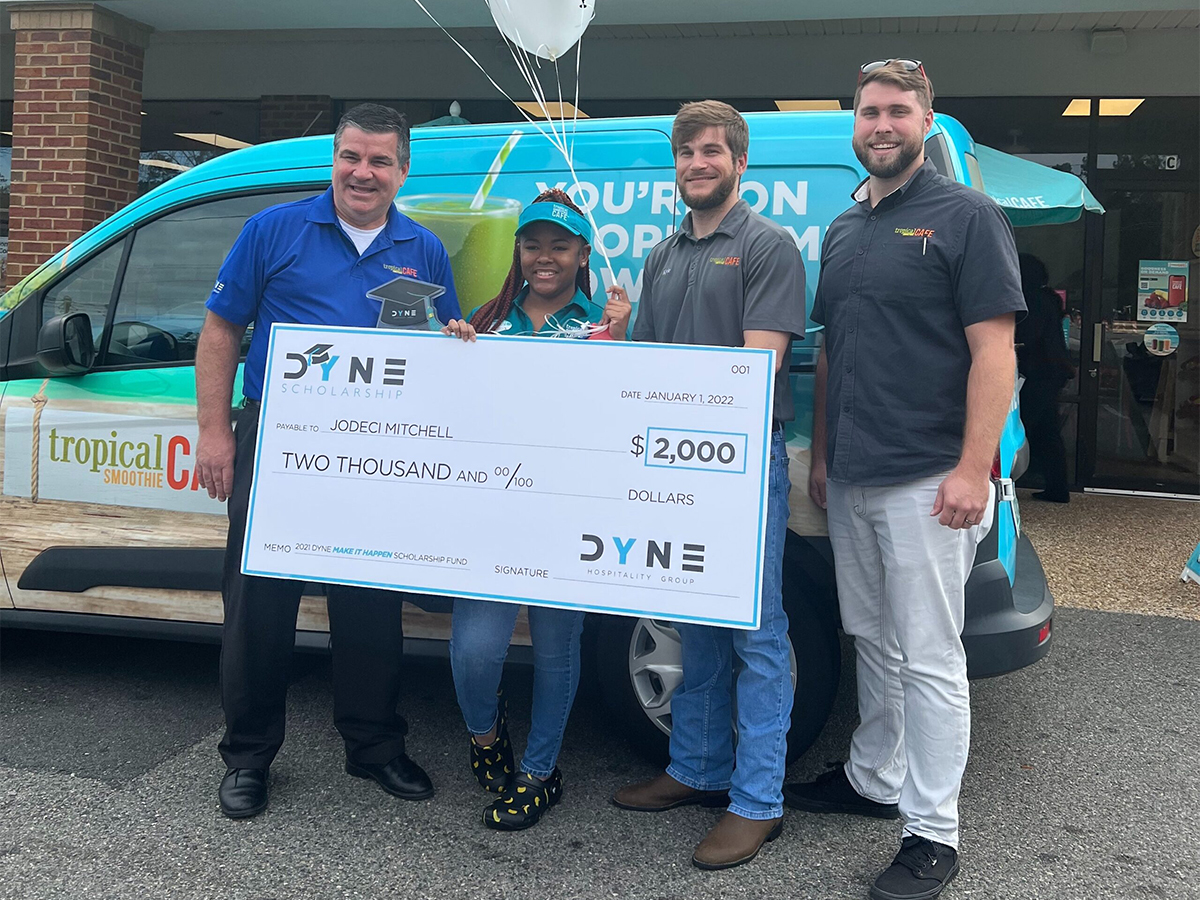 Jodeci Mitchell
Tropical Smoothie Location: GA002
School of Choice: Valdosta State University