DYNE Hospitality Group is the largest Tropical Smoothie Cafe franchisee in the brand. In 2023, Tropical Smoothie Cafe named DYNE as the brand's "Franchisee of the Year" and "Developer of the Year." DYNE's mission is to create opportunities using our God-given gifts. We say to use our God-given gifts because we believe everyone has something at which they are great. If we are working in whatever our gifting is, we will be energized, excited and love what we do each day.
Our focus is on creating opportunities, and this is how we measure the success of our company. The way we create opportunity is by always growing. The graph below speaks for itself. In order to accomplish our mission, sustained growth is essential, and this will always be our focus.
At DYNE Hospitality Group, operational excellence is essential to our success and a requirement for continued growth. It is something we take very seriously, work tirelessly to achieve and are committed to perfecting. To accomplish this part of our mission, we value our team like family, provide the resources for them to grow and obsess over our customer's experience.
Cafes Open At the End of Each Year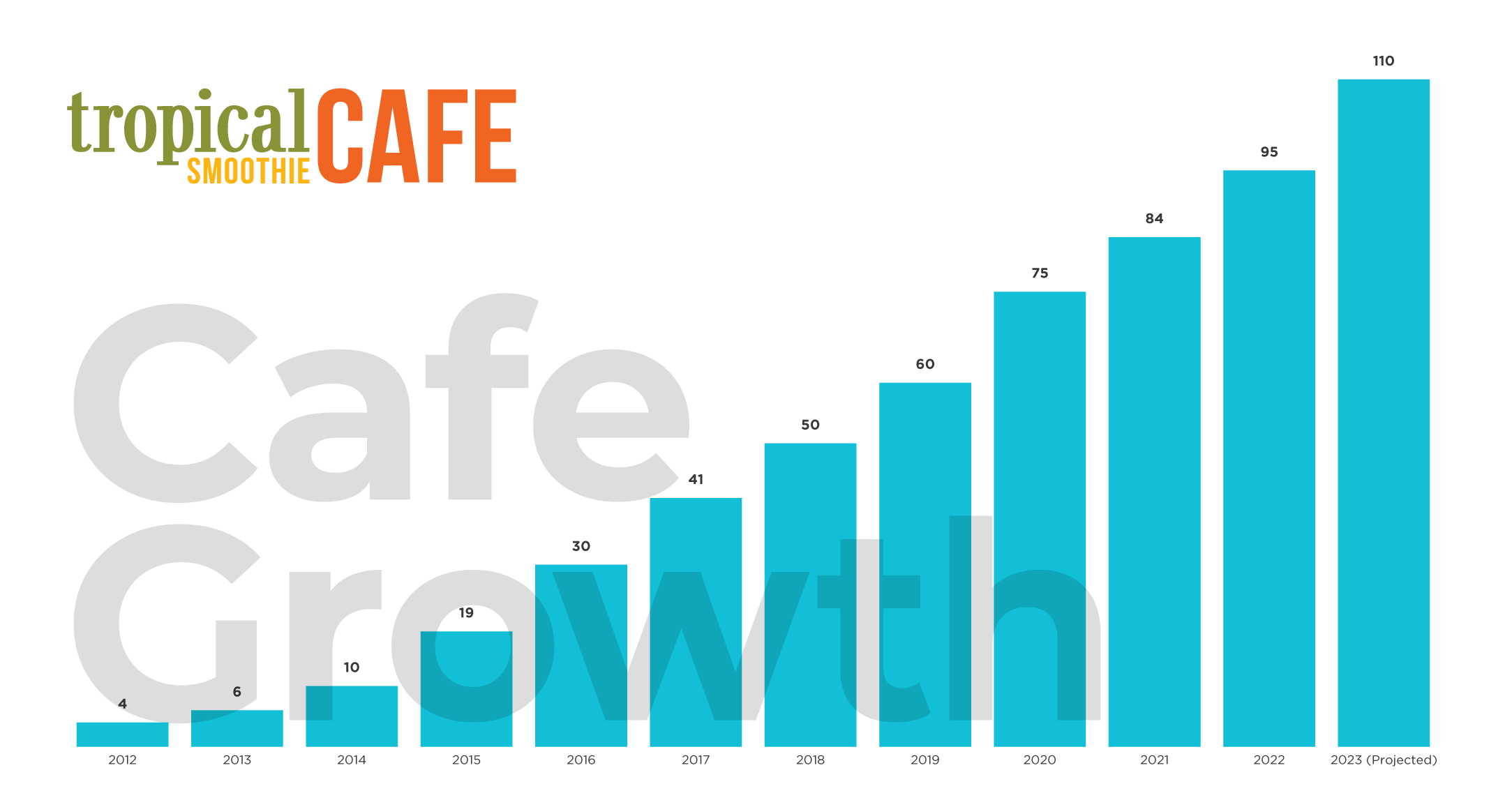 2011
DYNE opened its first two cafés in Arkansas and Florida.
2013
DYNE ended the year with 6 cafes, tripling in size during its first two years.
2014
DYNE added two cafes and partnered with Henry Investment Group in Dallas to accelerate growth.
2015
DYNE's growth exploded, adding 9 cafes and becoming the Area Developer of Oklahoma and West Texas.
2016
DYNE added 11 Cafes through organic development and several acquisitions in Florida.
2017
DYNE signed a 26 Cafe development deal for exclusive rights in the Dallas/Ft. Worth, TX, and Savannah, GA areas.
2018
DYNE's development schedule included 12 Cafes, reaching 53 cafes and more than 800 employees by the end of 2018.

DYNE signed a Cafe development agreement in Orlando, FL.
2019
DYNE launched the Pyneapple Fund, an internal fund to help their team members in times of need.

DYNE Hospitality Group grew to 60 Cafes in 6 states.

DYNE Development closed on Arkansas commercial investment in 2019 and focused on continued real estate development opportunities and expansion in 2020.
2020
DYNE closed out the year with 75 Cafes open and operating in 6 states. The company had plans for 15-20 Cafes in 2021 through organic development and key acquisitions.
2021
DYNE self-developed a majority of its new Cafes through its quickly growing development company, DYNE Development.

DYNEWELL was our Employee Wellness Program that kicked off in 2021. DYNE always haS a continued focus on finding unique ways to create opportunities for others.

DYNE Hospitality Group announced the "DYNE Make it Happen Scholarship Fund" and awarded the first round of scholarships at the end of 2021.
2022
Tropical Smoothie Cafe named DYNE as the brand's "Developer of the Year."

Tropical Smoothie Cafe presented DYNE with the "Difference Maker Award."

DYNE Hospitality Group appointed a new Chief Operating Officer.
2023
Tropical Smoothie Cafe named DYNE as the brand's "Developer of the Year" and "Franchisee of the Year."

DYNE opened its 100th cafe in Little Rock, AR! This is a significant milestone that highlights the company's success and growth over the years.